Bed and Breakfast Le Torrette
B&B Le Torrette is placed in Umbria, in Campello sul Clitunno the green heart of Italy. Situated in open countryside, at 600 meters above sea level, enjoys an excellent climate and an excellent panoramic position.
The bed and breakfast is located in an ideal location for visiting the main historical towns such as Spoleto, (at just 12 km.), Assisi, Orvieto, Perugia, Cascia and Norcia, the beautiful and famous medieval towns of Narni and Sangemini and various areas of natural interest such as Fonti del Clitunno sung by Carducci (at just 4 km.) , the Castata delle Marmore and the lakes of Trasimeno and Piediluco.
---
---
Discovering Umbria
---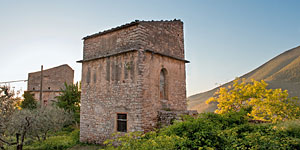 ---
Next to Perugia, Assisi, Orvieto, Todi and Spoleto, there are many other small towns that today, for environmental, historical and cultural conditions, are reallly the "hidden Excellencies", through which Umbria can enchant not only through his landscapes, but also for its abibity to keep alive the identity of things and of people of this land.
Art, culture ... and nature
---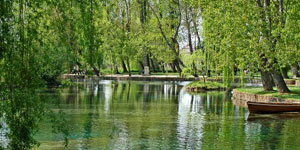 ---
Walking among the medieval villages and countryside. "...Salve, Umbria verde, e tu del puro fonte nume Clitumno! Sento in cuor l'antica patria e aleggiarmi su l'accesa fronte gl'itali iddii." "Alle fonti del Clitunno" ode of Giosuè Carducci
The streets of flavors
---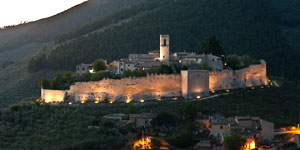 ---
The cuisine, with the typical flavors of this area is another good reason to visit Umbria. The sausages and the black truffle make Norcia and the Valnerina famous all over the world; but the extra virgin olive oil both from Trevi and Campello olive trees and the wine of Montefalco are not of inferior quality.
The Holidays home
The house has a large entrance hall, a living room with fireplace and a sofa bed. The kitchen is located downstairs and it is fully equipped and opened on a private garden.
Request the availability of the rooms immediately, to spend a relaxing stay in Umbria.
12 gennaio 2012 La bellezza della casa lo splendore del panorama sono battuti solo dall'ospitalità dei proprietari e dai loro famigliari.Passare in umbria e non femarsi alle torrette sarebbe un gravissimo errore.Grazie di tutto

29 ottobre 2011 Che dire, peccato esserci fermati una notte sola! Ci è talmente piaciuto il posto che ci siamo permessi di consigliarvi tanto nel blog di Monica (http://langolodellacasalinga.blogspot.com/2011/10/dove-dormire-b-le-torrette-campello-sul.html) quanto nella sua pagina facebook (http://www.facebook.com/pages/Langolo-della-casalinga-ricette-rapide-e-consigli-pratici/291407767538584). Speriamo sia cosa gradita.

11 ottobre 2011 Siamo stati benissimo, vi ringraziamo per il servizio e la vista mozzafiato che ci avete regalato, torneremo sicuramente.

11 ottobre 2011 Un augurio sincero per questa vostra nuova attività ed un grazie per la gentilezza e disponibilità. Se tutto va bene, non escluso che l'anno prossimo ci si possa rivedere. cari saluti

04 giugno 2012 L'accogliente ospitalità della padrona di casa, la bontà della colazione e la bellezza e pulizia della casa sono superate solo dalla magia del panorama su cui si affaccia il B&B..... Sicuramente uno dei posti piu' particolari in cui tornare sicuramente!!! Grazie di tutto!

17 luglio 2012 We were very pleased at the B&B Le Torrette. We received a warm welcome and we could enjoy a nice dinner while looking at the castle nearby. Roberta and her family made everything possible to make us feel at ease. It is worth planning the trip for a stop and an overnight at Le Torrette and the nice region of Lenano.

04 settembre 2012 Ci siamo trovati benissimo cordialità,simpatia, di Roberta e Paolo,posto splendido e colazione da hotel 5 stelle grazie di tutto e arrivederci....

04 settembre 2012 Agosto 2012 abbiamo alloggiato per 5 notti posto stupendo, cordialità e simpatia di Paolo e Roberta sicuramente consigliabile a chi volesse un trattamento oltre ogni aspettativa grazie e arrivederci.

12 settembre 2012 Quando la bellezza della natura e la ricchezza della storia sono accresciute da una sapiente accoglienza e da una vitale ospitalità, si arriva alla perfezione del B&B Le Torrette! Grazie Roberta!

20 settembre 2012 Ciao a tutti ragazzi!

19 novembre 2012 Posto fantastico. Ottimo per gite in tutta l'umbria. Colazione curatissima. Pulizia e servizio da hotel di categoria. I proprietari sono gentilissimi. Ci torneremo presto!!!!!!

28 luglio 2013 I had the wonderful good fortune of spending one night at B&B Le Torrete (but wish it was more) enroute from hiking between Assisi and Rome. The guesthouse is comfortable, welcoming, with an exquisite view and Roberta is the most gracious host. She prepared a delicious breakfast on the patio and even did my laundry for me - a kind gesture above and beyond the call of duty - and most appreciated as I had been on the road for a long time. Thank-you, Roberta, and I hope to be back again, should I ever return to Italy.

09 agosto 2013 bellissimo!!!!!! troppo!!!!! al punto di rimanere senza fiato e quindi dover fuggire per non rischiare un infarto!!!! senza parlare, poi, della grande serietà dei proprietari!?!?????????????

07 novembre 2013 fantastico è il termine più appropriato per definire la struttura e l'accoglienza. Merita provare. Noi ci siamo promessi di ritornare. Grazie Roberta e Paolo

22 luglio 2014 Tra tutti i posti in cui abbiamo soggiornato lungo la via Francigena questo è stato quello che ci è rimasto più nel cuore anche se siamo state una sola notte, un grazie a Roberta e Paolo per la vostra gentilezza e ospitalità, vi ricordiamo sempre con tanto affetto!Un saluto al magico borgo di Lenano!

12 agosto 2014 Superlativo, grazie per la vostra calorosa accoglienza e ospitalità, conoscervi e parlare con voi è stato un vero piacere.

13 settembre 2014 Anche quest'anno, essendo di passaggio, una sosta da voi Roberta e Paolo non poteva mancare anche se x una sola notte. Ringraziamo sempre per la vostra cordialità simpatia, il trattamento che riservate ai vostri ospiti è spettacolare,grazie mille.

15 ottobre 2014 Siamo stati veramente contenti per l'alloggio, molto comodo, attrezzato e pulito; per l'ospitalità e la gentilezza dei proprietari. Lo consigliamo vivamente. A presto!

04 febbraio 2015 Molto comodo l'albero nel giardino

30 giugno 2015 Ci siamo fermati per una sola notte perche' eravamo di passaggio ma siamo rimasti letteralmente estasiati dal posto e dall'ospitalità dei proprietari. Non mancheremo di tornare presto ! Lo consigliamo a tutti !

28 marzo 2016 Gentilezza e accoglienza squisita , posto meraviglioso , pulizia ottima ,locali grandi , cucina a disposizione ,colazione super abbondante con dolci e marmellate della sig.a Roberta consigliato

28 marzo 2016 Bene per accoglienza e pulizia , ottimo per colazione